Welcome to Knit A Bit, featuring knitting patterns and charts by Barbara Breiter.
New! I'm now offering my five most popular knitting bag patterns in one collection. Purchase the complete collection and save over individual purchases!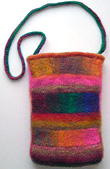 Don't miss the latest knitting pattern collection of 5 beautiful purse and bag patterns. It includes patterns for a Felted Cable Bag, Two Way Striped Felted Purse, Geometric Intarsia Felted Bag, Herringbone Ribbon Bag, and Large And Small Miters Felted Bag.
I also offer knitting patterns for hats at Knit A Bit, including felted hats, as well as many knitting patterns for felted bags and purses. You'll also find patterns for long sleeved sweaters, vests, short sleeved sweaters, and much more.
All knitting patterns include clear photos and complete instructions. Felting patterns include photos of what the project looked like before felting.

At Knit A Bit, you can purchase any of my 16 pattern collections or individual patterns and download them instantly! No waiting for the mail to arrive or long delays due to back orders. No shipping and handling charges. Order securely with any major credit card or a Pay Pal account and you can be knitting in five minutes.

My book, The Complete Idiot's Guide To Knitting And Crocheting (3rd edition) is available in stores everywhere. Learn how to knit and crochet step by step and then add additional skills to your repertoire to take you to the next level and beyond. It also serves as an excellent reference. Order from Amazon and save! You can see all the patterns that are included here. Enjoy and Happy Knitting!